Dealing With Hunger During a Fast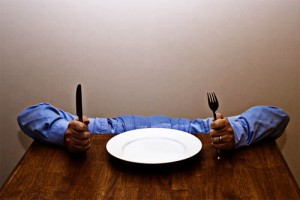 Both juice and water fasting can cause periodic hunger.  For some hunger can be difficult to overcome while others have fasted for 30 days without any hunger.
There are some things to do that can drastically reduce hunger during fasting.
1. Remove the pulp with a strainer from the juice because pulp continues the body's digestive process.  Fiber is health and needed when you are eating but during a fast is just build up in the colon and can create hunger.
2. Enemas will alway shut down hunger during a fast no matter how intense.
3. Green juices, with watercess, and bitter greens will stop hunger in seconds.  Even a sip is enough to stop hunger.
4. Drink a glass of water.  A full stomach lessens hunger in seconds.
5. Hunger is periodic during fasting and as the body goes through cycles of catabolism and detoxification hunger can go from intense to no hunger in a 20 minutes.  Waiting  for hunger to pass take discipline but also build self-control.
Hey, feel free to add your hunger reducers.