Extreme Health Recipes by Tom Coghill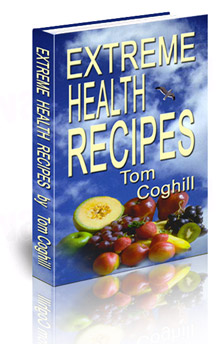 A complete guide to natural,delicious recipes.Learn how to pick a ripe fruit or grow sprouts. Delicious butter replacers and healthy vegetable soups. Discover natural sweeteners, omega 3 and 6 salad dressings, super tasty avocado dips and dozens of rare raw food recipes. Includes an herb and spice guide. All you need to make the change to healthy eating, with entertaining cartoons.

By Tom Coghill of Fasting.ws Articles  may be copied or reproduced as long as the back links to fasting.ws are intact and the author's name is included.
Included in $19.95 Special
Price $8.85
Tags:
Research Sources