June 22, 2009 | | 169 Views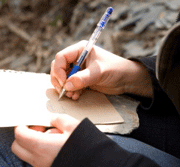 Post your fasting reports.
Example: Juice fasting day 1: Woke tired, bad breathe, drank mostly veggie juices, felt better by noon. Vitamins: E 1200 IU, Kelp and B complex.
Support
Comments On This Article
One Response to "Fasting Progress Reports"
mrsd496

Hi Tom: I am not sure I am doing this right. I am 69 yrs of age. was in accident 10 years ago. had one operation because I flipped in car 3 times. doc wants to do another. I want to juice fast before I see him july 17th. I haven't done any for about 25 years. don't even remember what it was like. any help out there? Oh I did see I should eat lite for a couple days before undertaking the juice fast. I believe I will be alright. I am on several meds some for B/P others acid reflux. dizziness meds water pills, I am 5′4-1/2 inches and am 170 lbs I am stoop over because of the spine messed up. I went from 5′8-1/2 after the accident. I figure what have I got to lose. I don't want another cutting in my back. Thanks for any help
Doris
You must be logged in to post a comment.
Recent Comments on Fasting.ws: